Mending Key
200px
First Seen
Use
Restores broken objects to unbroken state
Door
Mending Cabinet
Creator
Miranda Locke
Issues
3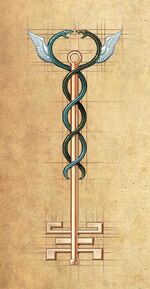 The key was discovered by Bode in issue #6 of "Crown of Shadows" in the bathroom, above the cabinet. While the key was discovered by Bode, it was actually used by Nina Locke, in an inebriated state, which according to Dodge (described as "color" in one's memories as viewed by the Head Key, which is alluded to only occur during states of drunkeness, and while under the influence of drugs.) which allowed her to by-pass the Riffel Rule.
Power Description
Edit
The mending key allows the user to open a special cabinet made out of the whispering iron. This cabinet is able to change its size, depending on the object which is stuffed into it. Once a broken object is inside the cabinet, the user has to lock the cabinet. When it is opened again, the formerly broken stuff inside is fixed. Its powers are somewhat limited, as it was neither able to return Rendell's cremated body to it's previous state, nor return him to life as Nina hoped. It was also unable to remove the tumor from Ian Locke (Locke and Key: Guide to the Known Keys), and could not remove the bullet from Harland (Locke and Key: Guide to the Known Keys), but merely heal the damage from both. Harland speculates that The Mending Cabinet only restores things to its previous state, regardless of whether or not its previous state is defined as "damaged" by the conventional sense.
The cabinet is located in the bathroom. It has a slightly blue/green tone. On the front, two winged snakes circulating around each other are shown, known historically as a Caduceus, a symbol associated with Hermes, the Greek messanger god, who was also the god of medicine.
""The Iron whisper'd to me laste night & I worked in a fever alle day, mayking a cabinet and forging a new key out of that dreadfull metal that is not metal. Yet if the devil may pervairt Holy Scripture to serve his purposes, so may the righteous at times turn the DEVIL'S TOOLS to do the work of SWEET JESU! For the key & cabinet I fashion'd could be used to mend fraictured objykts - shatter'd plattes, crack'd eggs & broken sistairs. Bless'd be THE LORD, Miranda has recovered! I only wish she wouldst remembair her place & become the demure and modestte girlle she once was, but fear her love for Crais will emperille her againe soon enough."