Joe Ridgeway
First
Status
Profession

English Teacher

Gender
Hair
Eyes
Cause of Death

Murder

Family

Callie (wife)
Joe Ridgeway is the English teacher at Lovecraft Academy. He is black, and married Callie Ridgeway in 1967. They spent their honeymoon in Italy, where they planned to someday retire.
Callie went on to become the Head of Admissions at Lovecraft Academy.[1] She and Joe eventually had at least one son together.[2]
She eventually died of cancer, supposedly in 2004, meaning possibly 7 years before the start of the comic.
Joe is later murdered by Zack Wells for recognizing him as Lucas Caravaggio. After Joe's murder, Dodge attempted to cover it up by sending an email suicide note from Joe's computer. In it, Callie's death was given as his reason for killing himself.[3]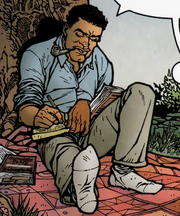 References
Edit