The Bitey Key, also known as the Grindhouse Key, was one of the Keys.
History
[
]
On some time, Mary Locke used the key in order to get rid of one of the gangsters.[1]
The key was undiscovered by the current Locke generation until recently, when Bode Locke somehow found it.[2]
Door
[
]
This key can presumably be used in any door. However, based on artwork for the unaired Hulu/Fox series, the live-action Bitey Key would have had its own door.[3]
Uses
[
]
When used to open a door, said door becomes a mouth with teeth and a tongue. The teeth close when a person enters, eating them.[2][1]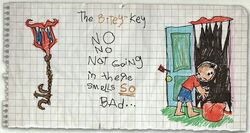 "NO
NO
NOT GoiNg
in theRe
SMeLLs SO
BAd..."
Trivia
[
]
Concept and production artwork by David Blass and Vincent Proce implies that the Bitey Key would've been used in the Hulu/Fox "Locke & Key" series had it come into fruition.[3]
Info
[
]
References
[
]